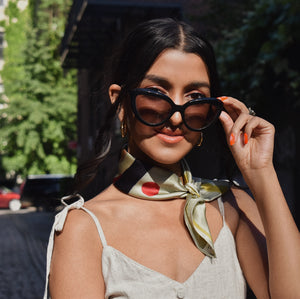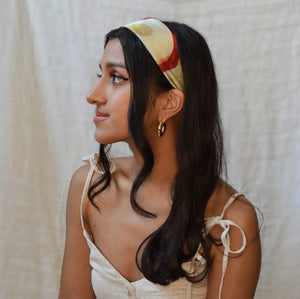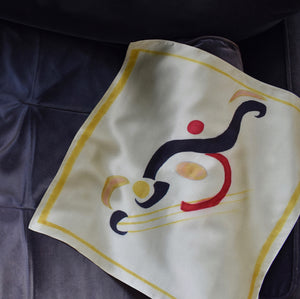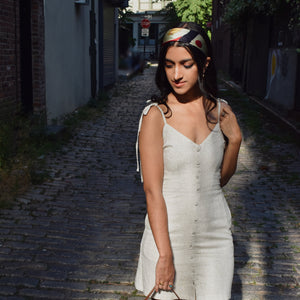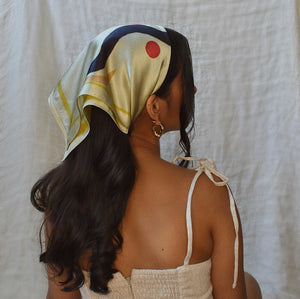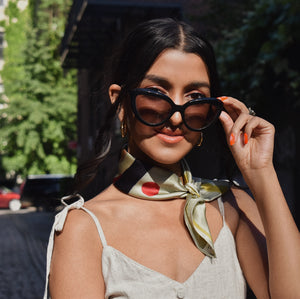 Le Virage
Our classic scarf is made from 100% Mulberry silk & is versatile in nature to be used in your hair, around your neck, or as a garment. Translating to the turn, Le Virage transports you to dreamy getaways cruising down the winding streets of Mallorca in a convertible. Movement is as central to the aesthetic as it is to the artistic inspiration. Le Virage is our first foray into the artistic style, simultanéisme, inspired by the work of Sonia Delauney and her exploration of the intersection of color, fabric, shape, and movement. How you interact with the piece is as much a form of art as the scarf itself - Le Virage creates beautiful, different patterns depending how you fold it resulting in endless styling possibilities.  
Our scarf pieces have been individually painted with French dyes and steam set.
Handcrafted & painted in NYC.
Ships within 2 weeks of order.
Sizes:
Our scarf comes in one size, 20" x 20".
Care Instructions:
Soieli pieces are engineered for every day wear. While water resistant, to extend the life of each piece, we suggest to avoid prolonged water engagement such as showering or swimming. Dry clean only. To remove wrinkles, we suggest to steam or use the silk setting on an iron.